Unconscious Bias in Healthcare Impacts Bottom Line
Unconscious bias leads to health disparities for patients, and has a negative effect on healthcare workers as well. Unconscious bias can cause both patients and staff to be treated differently based on gender, race, language spoken, lifestyle choices, and more. This results in higher staff attrition and and lower patient satisfaction—and in turn, it negatively effects healthcare organizations' bottom line.
From the article:
Financially, every source of revenue from patient services counts for hospitals to remain competitive and viable. Patient satisfaction matters. Medicare and Medicaid reimbursements represent more than half of today's hospitals' revenue, and they pay only 93 percent and 72 percent of hospital costs, respectively. Growing market share is critical, especially given the shrinking private-insurer market to cover the shortfall of those government reimbursements.


Who will these potential patients and families with chronic diseases choose as their partner in their care? Whom will they trust?

Current research indicates that patients are more comfortable with care providers who resemble themselves. They feel less intimidated by the process of the healthcare system when details are explained in ways they can comprehend from people with common cultural beliefs, values, and experience. Patients are more willing to listen and more likely to share detailed information, take medical advice, and adhere to a care plan when working with care providers they trust.

Unconscious bias scenarios are magnified in healthcare. When protocols are ignored, decisions are made arbitrarily, omitting options or treatment plans based on stereotypes toward a patient in a given group. In too many cases, the impact of decisions made based on unconscious bias can be a matter of life and death.
The article goes on to recommend training to overcome unconscious bias, and notes: "Ongoing learning acknowledges that addressing unconscious bias is a lifelong journey. One can never be 'done' in the area of building cultural competence."
Black Maternal Health Crisis Rooted in Bias—Not Blackness
We've previously reported the alarming disparities in black maternal mortality and black infant mortality in the US. Recently, the crisis has gotten more media attention, thanks in part to celebrities like Beyoncé and Serena Williams. But according to Dr. Joia Crear-Perry, founder of the National Birth Equity Collaborative, the conversation around black maternal mortality needs to change—from one that blames blackness to one that blames bias.
From the article:
We—in health, advocacy, and media—need to stop saying and teaching that being Black is a risk factor for illness and death....

Having a risk factor, or many risk factors, does not mean that you will get a disease. According to the World Health Organization, a risk factor is any characteristic or exposure that increases an individual's likelihood of developing a disease or injury. Based on well-established data, risk factors are categorized as modifiable or nonmodifiable, and health-care providers use them to counsel patients on how they can avoid or decrease their likelihood of death or disease. Knowing the risk factors allows patients to do things like get tested earlier for an illness or, for example, participate in a smoking cessation program. Risk factors can include attributes like fair skin for melanoma, which you can't modify but you can cover or add sunscreen. But no one's saying that whiteness is a risk factor for melanoma....

While much of the public-health world is lamenting and documenting Black women's higher chances of dying or being injured during or after pregnancy, we're not doing the tough work of really talking about racism.
CMS Reveals Racial and Ethnic Disparities in Medicare Advantage
The Centers for Medicare & Medicaid Services (CMS) released a report showing racial and ethnic disparities related to health outcomes and patient experience in the Medicare Advantage program (MA). The analysis was based on data related to racial, ethnic and gender differences in healthcare experience and clinical outcomes nationally from 2015–2016.
Key findings include:
Asian and Pacific Islander beneficiaries received better care than white beneficiaries on over 40% of clinical care measures.
Gaps between black and white beneficiaries were often larger for men than for women.
There were significant differences favoring whites over Hispanics on several measures of clinical care and patient experience.
Gender and Racial Disparities Persist in Healthcare Compensation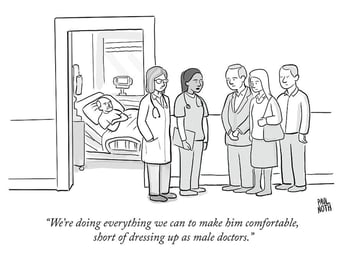 As healthcare organizations struggle to recruit and retain female and minority physicians, two separate reports from Medscape and Healthcare Information and Management Systems Society (HIMSS) reveal that the gender pay gap has widened among healthcare professionals, and racial disparities persist.
From the article:
Male primary care physicians earned nearly 18 percent more than their female counterparts, averaging $239,000 versus $203,000 for women. Men in specialties earned 36 percent more than women this year and that gap has widened since last year when it was 31 percent. Men in specialties earned an average $358,000 versus $263,000 for women, a gap of more than $100,000....

Racial gender disparities paint a discouraging picture for African American women, who made almost $100,000 less than their male counterparts. Asian-American physicians earned an average $293,000 per year and Hispanic/Latino physicians earned an average $278,000.

"You would think that as we narrow the gap of representation of women in medicine, that would narrow the wage gap, but it's not happening," says Ranit Mishori, professor of family medicine at Georgetown University School of Medicine. "The lack of salary transparency adds to the challenges of addressing gender-based pay disparities. Women don't even know what targets to shoot for."