What is virtual care?
As healthcare organizations look for ways to increase value, reduce costs, and improve access to services, the industry has begun to embrace digital technologies, including video, audio, mobile apps, and text messaging.
The ways healthcare providers interact with patients remotely is broadly referred to as "virtual care" (or sometimes, "telehealth"). Virtual care includes the treatment of medical conditions, aka "telemedicine," as well as checking in with patients, monitoring vital signs, and responding to questions.
Before the onset of Covid-19, the use of virtual care was minimal in the United States due to government regulations, complications with insurance coverage, and lack of established systems. During the pandemic, the demand for virtual care has exploded, and insurance companies and government agencies have worked to make virtual care more widely available.
Virtual care has clear benefits for patients, especially those who are medically underserved, such as low-income, elderly, special-needs, and low-English-proficiency populations. Benefits include:
More convenient and accessible healthcare
Cost-effectiveness and healthcare savings
Expanded access to specialists
Expanded access to healthcare providers with shared cultural experiences
Improved quality of care due to increased collaboration and productivity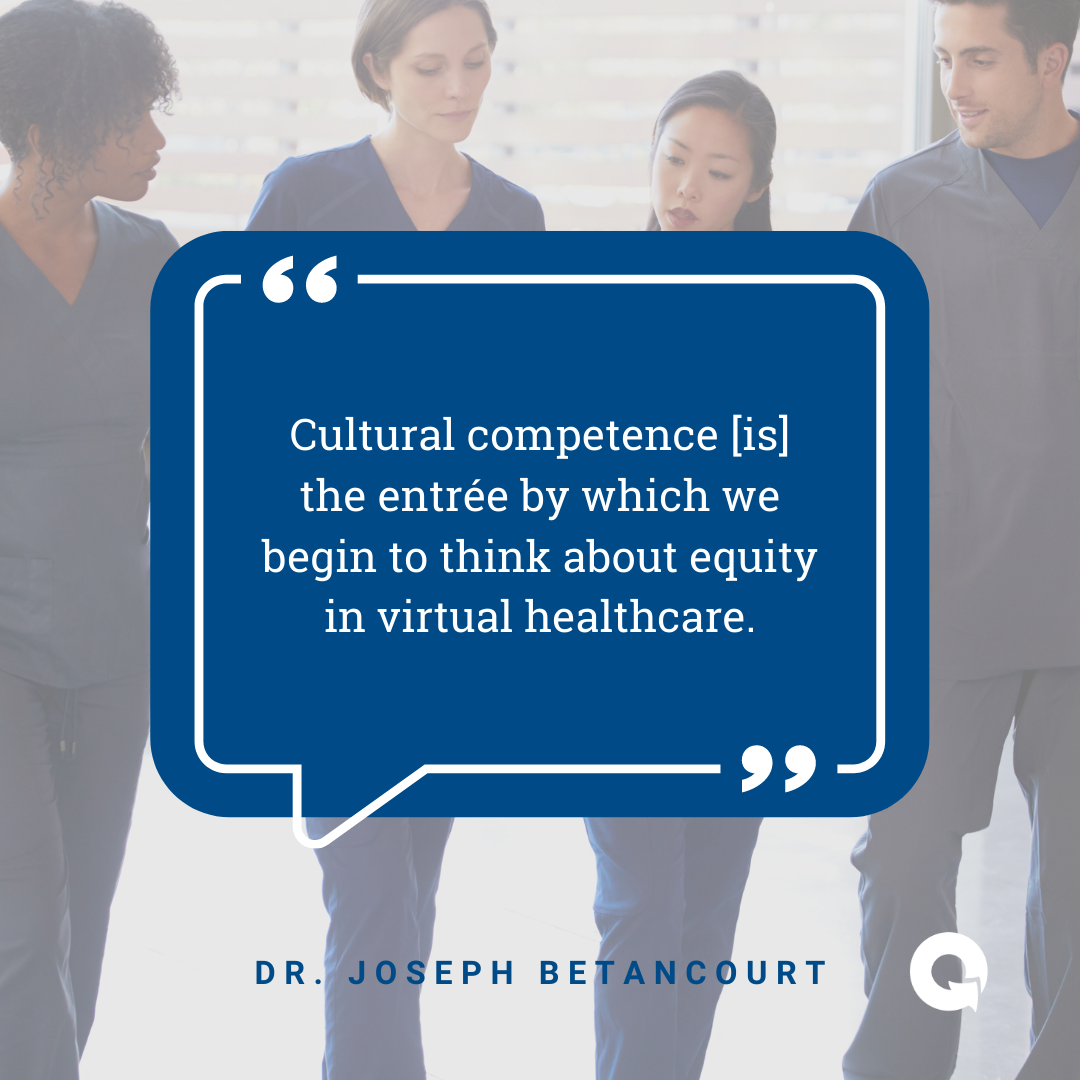 Ensuring Equity in Virtual Care
Virtual care has the potential to remove several barriers to care, including lack of transportation and social stigma. But it does require digital literacy and reliable access to high-quality internet. Some of the most underserved patients, especially in rural communities, do not have access to broadband internet. Or, low-income patients may not have enough minutes of data on their phones to engage in virtual care. Pursuing a national broadband plan to ensure universal connectivity is essential to reducing disparities in access to virtual care.
In the second session of our three-part webcast series on The Path Ahead: Equity & Covid-19, Dr. Joseph Betancourt discusses the opportunities and challenges of ensuring equity in telehealth. He notes that cultural competence is critical to these efforts and "becomes the entree by which we begin to think about equity in virtual healthcare." Watch the video above to learn about Dr. Betancourt's experience as a practicing physician and how he applies cultural competency skills to ensure equity in virtual care.