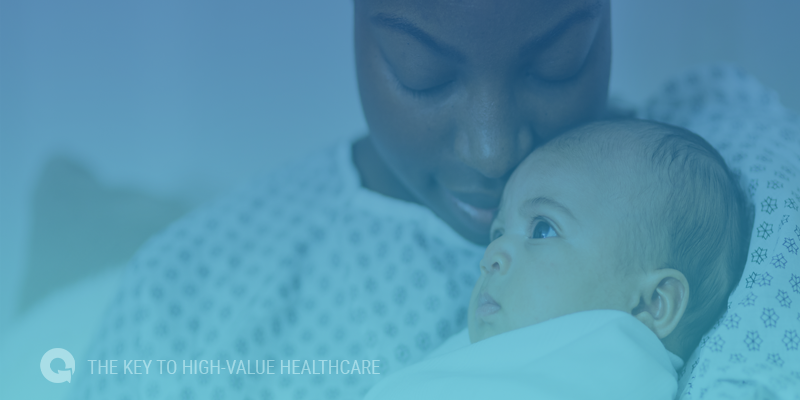 Racial health disparities have been magnified dramatically by the COVID-19 crisis. In the Boston area, where Quality Interactions is based, we see that the hardest-hit communities are ones of color, where social distancing is a luxury not available to most residents. The epidemic is disproportionately affecting our most vulnerable populations, while also widening the gaps in preexisting health disparities. One of the most shocking amplifications of this is in maternal healthcare.
Black maternal mortality in the U.S.
Before the pandemic arrived, maternal care in the U.S. was already the worst in the developed world for women of all races. However, the conditions are much more dire for women of color, especially black women. In America, black women are at least three times more likely to die due to risks associated with childbirth than non-Hispanic white women. This is not a socioeconomic problem. Rather, data points show this is an issue of racial bias. Consider these statistics about pregnancy-related mortality ratio (PRMR) in the U.S.:
College-educated black women are more at risk than women of all other races who did not finish high school.
Among women with at least a college degree, the PRMR is at least five times higher for black women than white women.
Black women with high incomes are more at risk than women of all other races with low incomes.
Income lowers PRMR rates for white women at greater rates than black women.
These preexisting problems are exacerbated by the pandemic, which is causing millions of women around the world to give birth in unprecedented circumstances: often alone, without the support of partners, mothers, sisters, or professional birth attendants such as doulas.
These disparities create poor outcomes for women and lifelong consequences for their children. We cannot hide from addressing these issues more adequately—certainly in the aftermath of this health crisis, and better as soon as possible. We need to bend the curve on this too.
Bias exists in healthcare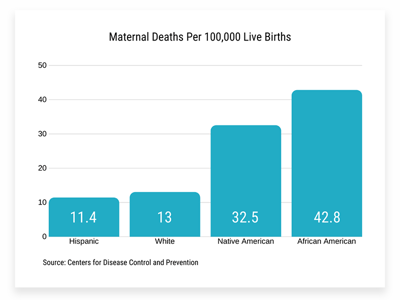 Unlike women of other races, black women in America don't gain immunity from maternal mortality and other preventable health risks based on zip code, education, or professional achievements. Yet the vast majority of health providers enter into their profession with the best of intentions to do right by all of the patients they serve. Wherein lies the disconnect?
A growing body of research points to unintended bias—also called implicit bias or unconscious bias. Bias occurs when our brains rely on faulty assumptions and stereotypes while processing information. Bias is particularly influential in high-stress, time-pressured situations, such as medical emergencies.
Bias can cause well-meaning health professionals to:
Ignore symptoms
Dismiss patient concerns
Deny treatment options
Take actions that worsen health outcomes
How to address bias in healthcare
The way to eradicate bias in healthcare is to acknowledge it, understand it, and employ strategies to overcome it. Implicit bias training is a proven method for accomplishing these goals. Bias training uses at least three effective mechanisms to do this:
It aligns organizational values with patient care and makes it clear to staff that fairness and impartiality are priorities. As such, implicit bias training is an essential part of onboarding as well as continuing education.
It makes people aware that they have biases. Everyone has biases, but implicit bias training addresses those that are unconscious, or unknown to the individual. Awareness is the first step to overcoming prejudice and making person-based decisions.
It provides a framework for addressing and eliminating biases. Through practice and repetition, implicit bias training can and will change behavior and reduce discrimination.
Bias training for health providers isn't a panacea for deeply entrenched systemic racism and bias, but it is a necessary piece of the puzzle. That's why regulatory agencies increasingly endorse it. One example is California's landmark SB-464 Dignity in Pregnancy and Childbirth Act, which rightly calls for implicit bias education for all maternal care staff.
The definitive course on implicit bias in maternal care
Quality Interactions proudly partnered with March of Dimes (the preeminent organization focused on improving the health of mothers and babies) to develop a solution to implicit bias in maternal healthcare. This dream partnership married our proven implicit bias content with March of Dimes' expertise and connection within the maternal care space.
Validated by practicing maternal care providers
We talked with hundreds of maternal caregivers across the country, at all levels of their profession, from community advocates to medical directors. We asked them how they saw racial bias show up in their organizations, what messages they felt were most important, and how they thought their colleagues were likely to respond to those messages.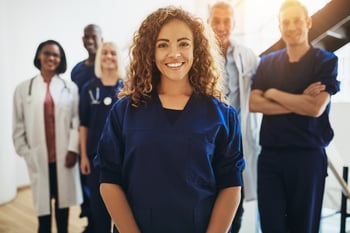 Using their guidance as our north star, we developed an implicit bias training program that we piloted with live audiences at state- and national-level forums for health equity. We then refined the program into an accessible and interactive 1-hour eLearning program accredited by ACCME and ANCC boards.
This groundbreaking training on implicit bias in maternal healthcare provides the context for understanding the problem and also offers actionable strategies that can be employed organizationally and individually.
Over five lessons, this course presents data and real-world case studies that describe the differences in maternal care provided to mothers of color and teaches learners how to overcome bias and improve health outcomes.
Innovative course content:
Lesson 1: Disparities Data
Lesson 2: Implicit Bias in Healthcare
Lesson 3: Structural Racism in the U.S.
Lesson 4: Strategies to Mitigate Implicit Bias
Lesson 5: Creating a Culture of Equity
Together, these lessons produce a powerful understanding of the crisis in maternal care, how it came to be, and how we can overcome it.
End implicit bias in maternal care
Changing the story of black maternal mortality in America is going to take more than one shift in practice or policy. But the time to address these inequities is past due, and doing nothing in the face of injustice is not a viable solution. As COVID-19 lays bare the failings of our society to protect our most vulnerable, it also presents us with an unmistakable call to action: Individually and collectively, we can and must improve maternal care for women and children of color. The fight starts here with one hour of your time and attention. Get the definitive implicit bias training for maternal care providers today.